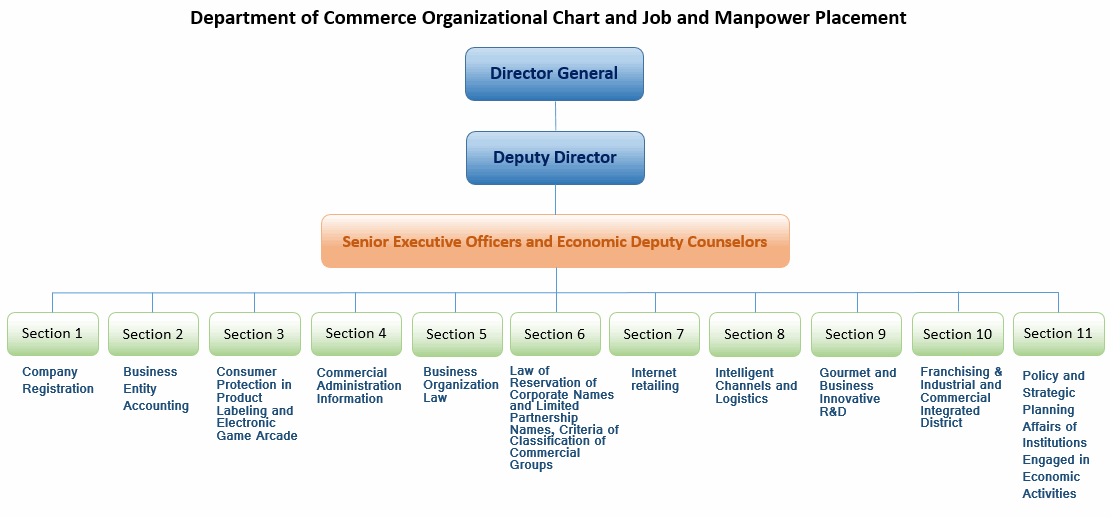 The responsibilities of the Director General, Deputy Director, 4 Senior Executive Officers, 1 Economic Deputy Counselor, and 11 Sections of the Department of Commerce of the Ministry of Economic Affairs are described as follows:
Section 1 Company Registration:
Domestic company registration.
Photocopy and transcription of company registration materials
Issue company registration certificate.
Issue English certificate.
Issue service provider certificate.
Section 2 Business Entity Accounting:
Formulation and Interpretation of the Business Entity Accounting Act.
Verification of company dissolution.
Section 3 Product Labeling, Consumer Protection, and Electronic Game Arcade:
The amending interpretation, advice, and advocacy of the standards for 11 types of specific product labels in accordance with the Commodity Labeling Act.
Electronic game arcade business regulation act as well as the interpretation and research of the relevant laws and regulations/Electronic game console evaluation and announcement as well as motherboard inspection and certificate labeling.
Management of special purpose businesses such as night clubs and the information leisure industry.
Relevant consumer protection services of this Ministry as well as the standard contract amendment and audit operations.
Section 4 Commercial Administration Information:
Development, construction, and maintenance of the national administrative information system.
Construct, maintain, and operate the Certificate Authority; and issue industrial and commercial certificates.
Section 5 Business Organization Law:
Deliberation, amendment, and interpretation of the Business Registration Act.
Deliberation, amendment, and interpretation of the Company Act.
Deliberation, amendment, and interpretation of the Business Mergers and Acquisitions Act.
Deliberation, amendment, and interpretation of the Limited Partnership Act.
Section 6 Law of Reservation of Corporate Names and Limited Partnership Names, Criteria of Classification of Commercial Groups:
Explanations for cases of questionable name and scope of business for company, business, or limited partnership.
Addition (revision) and announcement of Business Item Code for Companies, Businesses and Limited Partnerships‧
Decision (revision) of the criteria of classification of commercial groups.
Section 7 Internet retailing:
Business to consumer (B2C) commercial transactions conducted through the Internet.
Section 8 Intelligent Channels and Logistics:
Promote international and technological development in logistics.
Business Services Productivity 4.0.
Process preferential loans for distribution services and the hospitality industries.
Section 9 Gourmet and Business Innovative R&D:
Promote the internationalization of Taiwan's food and beverage industry, commercial design industry and advertising service industry, boost the application of new technological development, and promote new domestic research and development services.
Section 10 Franchising & Industrial and Commercial Integrated District:
Upgrade franchise industry and receive mixed industrial and commercial district recommendation applications to stimulate business environments.
Section 11 Policy and Strategic Planning Affairs of Institutions Engaged in Economic Activities:
Commercial policy planning and implementation.
Organization planning and promotion.
Budget provisions as well as accounts audit and control.
Receiving, sending, auditing, filing, and supervision of related operations.
Approval, change, and annual audit of institutions engaged in economic activities.