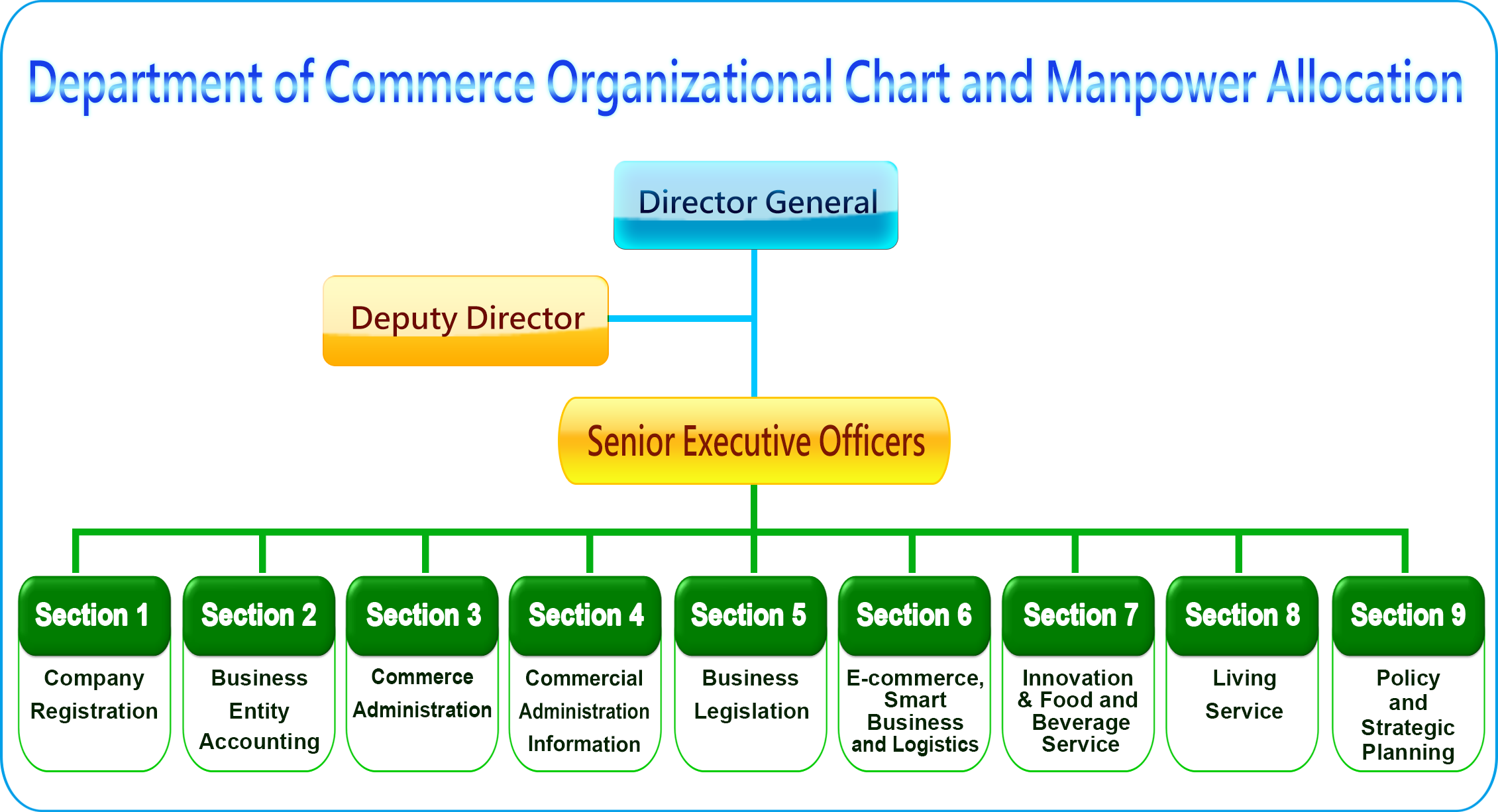 The responsibilities of the Director General, Deputy Director, 4 Senior Executive Officers, and 9 Sections of the Department of Commerce of the Ministry of Economic Affairs are described as follows:
Section 1 Company Registration:
Domestic and foreign company registration.
Photocopy and transcription of company registration documents.
Issuance of company registration certificate.
Issuance of company English certificate.
Issuance of service provider certificate.
Interpretations of the laws and regulations for companies/businesses/limited partnerships name reservation and business scopes.
Addition (revision) and announcement of List of Codes of Business Items of Companies, businesses, and Limited Partnerships.
Section 2 Business Entity Accounting:
Revision and Interpretation of the Business Entity Accounting Act.
Verification of company dissolution.
Anti-money laundering and countering the financing of terrorism for jewelry retail businesses.
Formulation (Revision) of the criteria of classification of commercial groups.
Section 3 Commerce Administration:
Deliberation, amendment, and interpretation of the Electronic Game Arcade Business Regulation Act as well as the relevant regulations; and review operation of electronic game arcade.
Management of special purpose businesses such as ballroom and computer recreational activities, etc.
Deliberation, amendment, and interpretation of the Commodity Labeling Act and the Labeling Criteria for specific products.
Responsible for the standard contracts under the jurisdiction of the Department of Commerce and relevant consumer protection services of this Ministry.
Section 4 Commercial Administration Information:
Development and operation of the Governmental Commerce Administration Information System.
Operation of the MOEA Certificate Authority and issuing of MOEACA.
Section 5 Business Legislation:
Deliberation, amendment, and interpretation of the Business Registration Act.
Deliberation, amendment, and interpretation of the Company Act.
Deliberation, amendment, and interpretation of the Business Mergers and Acquisitions Act.
Deliberation, amendment, and interpretation of the Limited Partnership Act.
Section 6 E-commerce, Smart Business and Logistics:
Facilitating the development of domestic and cross-border E-commerce sectors.
Promoting internationalization and innovation of logistics service.
Promoting high-quality smart business services.
Section 7 Innovation & Food and Beverage Service:
Facilitating the development of the food and beverage service industry in Taiwan.
Promoting innovation and research & development of the service industry.
Responsible for assisting with century-old and sixty-year-old stores.
Section 8 Living Service:
Upgrading the life service industry and the franchise industry.
Recommending industrial and commercial mixed-use zone applications to stimulate business environments.
Promoting the internationalization of the commercial design industry and the advertising services industry.
Processing preferential loans for distribution services and food services industries.
Section 9 Policy and Strategic Planning:
Planning and implementing commercial policy of the Department.
Planning and managing the personnel, training, and organization of the Department.
Budget provisions as well as review of annual budget and final accounts.
Receiving, sending, expediting, and filing official documents; control and evaluation of individual projects.
Approval, change, and annual inspection of economic foundations governed by this Ministry.
General services (responsible for congressional liaison, press, public opinion, and public services.)